HELP Menu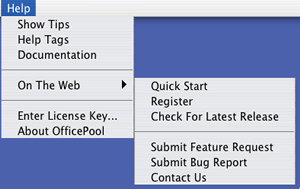 Show Tips This will bring up OfficePool's built-in tips. Another good place to help you get familiar with how OfficePool works. If there is a tip you think should be included, be sure to Contact Us.
Help Tags This shows a pop-up tag on certain OfficePool objects (like team brackets). Probably the first thing you are going to want to do is turn this off.
Documentation Link to the OfficePool Documentation index page. Internet connection is required, otherwise a blank page is displayed.
---
On The Web This will launch your default web browser and bring up selected web pages. An internet connection is required.
Quick Start Link to the OfficePool Quick Start guide.

Register Link to the OfficePool Registration page.

Check For Latest Release Link to the OfficePool Download page.

---

Submit Feature Request Link to the OfficePool Feature Requests page.

Submit Bug Report Link to the OfficePool Bug Reports page.

Contact Us Link to the OfficePool Contact Us page.
---
On Mac OS, these menus are located under the "OfficePool 2023" menu (To the right of the Apple menu)
Enter License Key Once you register, this is the place to enter the registration information.
About OfficePool Brings up a dialog which tells you a little bit about OfficePool but, more importantly, this is where you enter in your registration information after you have purchased OfficePool.